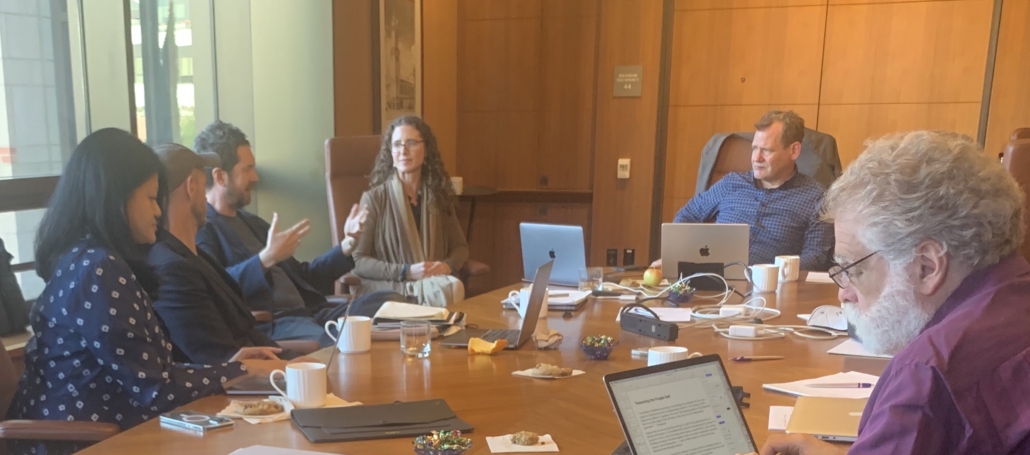 CMB network members held their first in-person 3-day meeting (3/24–3/26) at UCLA's Luskin Conference Center since January 2020. Funded by the FPR, the CMB Thematic Issue Workshop was organized and moderated by network member Tawni Tidwell. Attendees included network members Greg Downey, Laurence Kirmayer, Daniel Lende, Chikako Ozawa-de Silva, Seinenu Thein-Lemelson, Samuel Veissière, and Carol Worthman, and non-network members John Dunne, PhD, Distinguished Chair in Contemplative Studies, University of Wisconsin–Madison, and Michael Sheehy, PhD, Director of Scholarship at the Contemplative Sciences Center, University of Virginia.
Tawni used last Summer's CMB research honorarium to convene a small working group to explore "individual differences of resilience and transformation through practice," which became the basis of a successful grant proposal last Fall ("Cultural Practices in Differential Well-Being & Resilience") for the workshop and special issue of Ethos.
The special issue explores a collection of concurrent work that investigates dimensions of contemplative, healing, and sociocultural practices that elicit differential, particular and individualized outcomes of resilience and well-being. Through identifying synergies across their research, the authors present ethnographic, qualitative, and analytic works that demonstrate the plasticity of experience and individual differences in outcomes related to both formal and informal practices and their biocultural pathways. These outcomes center on measures and characterizations of resilience as well as pathways for health and well-being. Resilience provides a synthesizing construct in its characterization of the rapidity with which one recovers from adversity as well as the related experiences of well-being, actualization and flourishing that might arise from these processes. 
Following a warm welcome from Rob Lemelson, president of the FPR, the afternoon session on Thursday, March 24, provided an opportunity for the group to discuss practices in general – what are they? Why do they matter? What is practice theory? What are key insights related to practices? What's missing, limited, or mistaken?
Thursday's discussion established a framework of key questions, construct, themes, and gaps the group explored over the next two days as participants presented working drafts of their contributions to Ethos and the group discussed content, synergies, and distinctions.
The group meets again on Friday, April 22nd, at 5pm ET via Zoom.
Greg Downey, Macquarie University (via Zoom)
John Dunne, University of Wisconson at Madison
Laurence Kirmayer, McGill University
Robert Lemelson, FPR & UCLA
Daniel Lende, University of Southern Florida
Chikako Ozawa-de Silva, Emory University (via Zoom)
Michael Sheehy, University of Virginia
Seinenu Thein-Lemelson, UCLA
Tawni Tidwell, University of Wisconsin at Madison
Samuel Veissière, McGill University
Carol Worthman, Emory University
Constance Cummings, FPR & CMB (Logistics)