FPR: Founder
The FPR Board
Click here to view the current list of FPR Board Members and Advisors.
Founder
The FPR was founded at the end of 1999 by a gift from Robert Lemelson, Ph.D.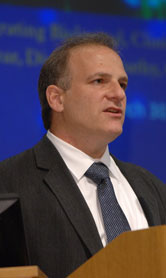 Robert Lemelson, FPR Founder and President
An anthropologist who received his master's degree from the University of Chicago and his doctoral degree from the University of California-Los Angeles, Dr. Robert Lemelson is currently a research anthropologist at the Semel Institute of Neurosciences at UCLA, and an associate adjunct professor in the Department of Anthropology. He was a Fulbright scholar in Indonesia in 1996-97. He has worked for the World Health Organization and is additionally trained as a clinical psychologist. His areas of specialty are Southeast-Asian studies, psychological anthropology, and transcultural psychiatry.
Dr. Lemelson has recently published in the journals Culture, Medicine and Psychiatry, Medical Anthropology Quarterly, and Transcultural Psychiatry, among others. His co-edited volume, Understanding Trauma: Integrating Biological, Clinical, and Cultural Perspectives, was published in early 2007 by Cambridge University Press.
As a documentary filmmaker and psychological anthropologist, Dr. Lemelson's work focuses on personal experience, culture, and mental illness in Indonesia and the United States. He has been conducting anthropological research in Indonesia since 1993. Dr. Lemelson has completed his most recent film entitled 40 Years of Silence: An Indonesian Tragedy, a feature length documentary about the traumatic long-term effects of Indonesia's 1965 mass killings on four families. He also directed and produced the Afflictions: Culture and Mental Illness in Indonesia series, a Limited Series Award Nominee for the 2010 IDA Documentary Awards. The six-part series, shot over the course of 12 years in Bali and Java, Indonesia, is a result of longitudinal ethnographic fieldwork exploring the relationship between culture, mental illness, and personal experience. He is also the CEO and founder of Elemental Productions.
Dr. Lemelson is the founder and the president of the Foundation for Psychocultural Research (The FPR), whose mission is to advance and support interdisciplinary research and training in neuroscience, psychiatry, and anthropology. Dr. Lemelson also serves as a director, co-Vice President and Secretary of The Lemelson Foundation, a family foundation whose mission is to promote innovation and invention in American society and the developing world. Dr Lemelson supports the UCLA Indonesian Studies Program, which was created in 2008. It is part of UCLA's Center for Southeast Asian Studies, which is housed at the UCLA International Institute. He is a faculty member affiliated with UCLA Asia Institute. He also supports the Lemelson Anthropological Scholars Program at UCLA. This is a new program that was created in 2011 at the UCLA Department of Anthropology and will begin in the winter quarter 2012.
In 2007, Dr. Lemelson began the Lemelson/Society for Psychological Anthropology (SPA) student fellows and conference funds program. The program works to encourage graduate students to pursue fieldwork in psychological anthropology and to support faculty conferences fostering new and creative ideas in psychological anthropology. For more information about this program as well as funding opportunities, please visit the SPA homepage.
Film Screening
LOS ANGELES, CA The Landmark Regent Theatre
1045 Broxton Ave., Los Angeles, CA 90024
October 3 through October 9, 2014
Reviews for Bitter Honey:
LA Times Review

UCLA Newsroom

The Blot - Interview with Dorris Olds


Opening Dates also in the following Theatres:
SAN FRANCISCO, CA
Presidio Theatre
October 17 through October 23, 2014
BOSTON, MA
Apple Cinemas Freshpond
October 24 through October 30, 2014
NEW YORK, NY
IFC Center
October 31 through November 6, 2014
CHICAGO, IL
AMC River East Theatre
October 31 through November 6, 2014
WASHINGTON, DC
West End Cinema
November 7 through 13, 2014